The transition through different levels of surfing can be an interesting and at times, a terrifying journey.
As you begin to leave those white wash beach breaks behind and head out towards the line-up, new experiences come into play.
This topic has been a reoccurring theme over here at Solid and the questions/points raised by the guests are worth highlighting to help anyone else trying to push themselves to the next level.
Here are a few things from our Experienced Surf Instructors to keep in mind:
– Above all, keep safe. Every break and every wave is completely unique. Take the time to carefully observe your environment. How are the waves breaking ? Where are the currents ? Rocks/Sand/Reef ? Exit/Entry points ? Tide changes and set wave duration?
Ask your guides questions, no one knows the local breaks better than they do. With time, these questions will become second nature before deciding on a surf spot but until then, take the time to learn as much as you can.
The sea is an ever changing mystery and the conditions can change suddenly. The more you are aware of before you get wet, the better 🙂
– Be honest with yourself about your surfing level. We know you want to hit those big, known spots but messy take-offs onto razor sharp reef never ends too well 😉 Of course you will get there, patience is a surfing virtue. Again, listen to your instructor, it can be frustrating but they know if you are ready to take on Mavericks or not. At the end of the day, they are there to help not hinder you.


– Respect. This is a big one. On any surf-trip, you are in the home of the locals. They are generally lovely, warm, welcoming people but you are guests in their wave land so a little respect in the sea goes a long way. Observe the priority rule, no leash pulling, snaking or drop ins and it will be fun times for all.
– Maintain water safety and board control. Board handling skills are half of paddling out. Most of the time, there will be other surfers around you in the sea. Be aware of where they are and try not to ditch your board when getting through that white wash. Boards are hard, sharp and have evil pointy little fins…. a board to the face is not a great experience ( take it from me ;). Confident duck-dives and/or turtle rolls will get you far and keep others in the sea around free from broken noses so practice, practice, practice.


– Fitness. Yes, Fitness. I know it's not something most people like to hear but surfing takes a hell of a lot of energy. You do not want to be stuck under a 5 wave hold down and your arms are too tired to paddle you out to the save zone anymore. Preparation is both in and out of the water. Exercise, strength work and surf yoga ( hahah) will keep you going stronger, for longer. As will good food and rest. Paddle fitness is vital and will prepare you for that 40 minute secret point break paddle out Yewwwwwwwww!
– Embrace the smash. We all wipe out. Some of us (me…) alot more than others. The fear is there and will try prevent you from taking the drop or even sitting anywhere remotely near the line up. Wipe outs can be bad but as hard as it sounds, remain calm. It will pass. In the words of Babe Ruth "Never let the fear of striking out keep you from playing the game".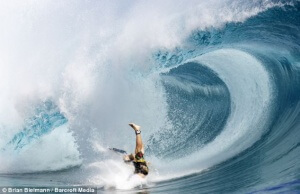 All surfers face their own Development Journey. There will be highs, there will be lows and some days we feel like total beginners all over again. It's not the destination but the surfing journey that will change your life. Peace out x