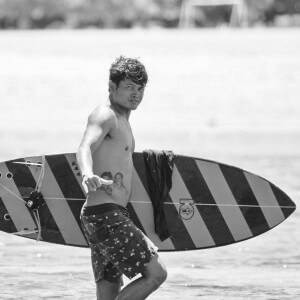 Whenever Juda is surfing is his free time, you will feel the passion. He is one the those people where surfing has been a life change. Moving from sparsely populated Sumatra to the developed Canggu in Bali to be able to do what he loves for a living; sharing the love for surfing.
Basic info
Name:  Juda Purba
Age: 28
Origin: Sumatra, Indonesia
Years of surfing: 10
Current location: Bali
Job:  Surf instructor
What do you love most about surfing?  
"How do you say that… About the feeling, how you enjoy it. Nice to be in the water. And you get healthy from it."
What can you remember about the first time you went surfing? 
"Is a long time ago. I was maybe 11 years old. I went to my moms part in Sumatra. I went with a friend. Borrowed a board from random people on the beach. I was so scared. But I decided it was really nice."
Although his first surf experience was at age 11, he picked it back up when he was around 18 and found himself spending his spare time in the waves.
How long did it take to get better in surfing? Do your own timing and wave selection.
"3 months when you do it every day."
With the devotion that developed, he went surfing almost everyday. After about 3 months he started feeling more confident in the ocean, feeling the waves and got passed the beginner stage of surfing. He got better at the waves selection, his timing, catching the right waves and able to start trying some tricks .
What is your advice to beginner surfers?  
"Respect the water. Respect the ocean. And be patient."

What's your personal favorite surf spot (Bali and in the world) and why?   
"Bingin, Bali. And I would like to go surfing Sumbawa, Indonesia. It's a nice barrel."

We can see why:

What kind of board do you use most frequent?  
"My 5'7, made by a local shaper."
The shaper is a friend of Juda. Currently his board is for repair because he almost cracked it while he was practicing some maneuvers.
What can you tell about the most epic wave/surf session you ever had?
"When I was in Lombok, I was surfing with only two friends. 3 people in the water. And the wave was like 6 to 8 (indo) feet. Open faced wave. Had the most fun with my friends. There was no crowd and it was just perfect."
What's your goal when it comes to surfing?  
"I wanna be able to feel what really good surfers feel when surfing. How it would be for pro surfers. To be able to be always in the water and to do what they do. That's it."
Who's your surf inspirator (a pro or someone you know) and why?
"It's a friend, feels like a brother. His name is Wahyu. He took me surfing a lot. We always went together. He's really good. Never scared of the big waves or in rough conditions. He always rips it."
What other kind of sports do you enjoy doing or watching?  
"I do boxing. And I like to watch zumba (just kidding), running, motor racing."
While Juda is surfing, there's a tune that pushes him to make progress and go for it. To not fear the waves and enjoy it to the max. His surf tune is this one:
[ytp_video source="vwmU343eBu0″]
By: Nanne de Jong