So, having heard this burning question thousands of times; "Will I be SAFE…is it DANGEROUS for a Woman to travel to Morocco….??", let's finally put it to rest. As the idea of women missing out on fulfilling adventurous life experiences purely due to misconceived fear doesn't sit too well with us and genuinely would be such a shame 🙂
Let's get to the facts:
People may stare. Yes. This surprisingly happens. As it would when a woman walks down a street in Italy, Turkey, Germany or the UK for example. Unless you're intensely maintaining eye contact and cheeky smiling, people will simply let you be.
Occasionally people may want to talk to you. Again, this has been known to happen. If it's not a conversation you want to be having, I find waving your arms around while shouting "Je ne comprends pas" or "Ou est La Piscine" generally does the trick.
Other than that, the obvious applies. Public nudity is generally frowned upon, as are indecent acts and wandering around drunk. Traveling involves common sense and a certain degree of self-awareness. Simple interactions can be interpreted differently when abroad so try to be aware of the impression you are giving off. Have respect for the local people and above all respect for yourself and you will be free to experience all the textures and richness that Morocco has to offer.


This year alone, over 40% of our guests have been Solo-Female Adventurers. Here are few words from these lovely people first hand:
"First of all my mom was horribly nervous when I told her I was going to Morocco. She kinda always is so I didn't really give it much attention at first to be honest. However, I could feel this time was different. I think she is nervous because I have long very blond hair and I'm quite curvaceous but this time, me traveling to a Muslim country didn't sit well with her.
I have now stayed in Tamraght and the Taghazout area for five days and I feel totally safe. I have to admit that the guys look at me, but not in a bad way, more in a curious way. Meeting people on the beach, the shop or the street is a good experience. They are sweet, interested, and very polite. No worries, Morocco is a beautiful country with beautiful people." ( Signe, 26 – Denmark )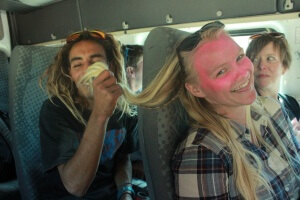 "It's just normal, I don't really feel like a single female traveler in Morocco. But this is kind of different because you are in a surf camp so its more…protected isn't the right word but its not like you're traveling through the country, you're staying at this house so I don't know I would feel differently if I were traveling through the country by myself but I don't think so. I walk around a lot by myself and haven't had any problems at all." ( Carla, 31 – Holland )


Yes, I was very nervous about traveling to Morocco. I know it was a Muslim country and that had quite a lot of bad press back home. I always wanted to surf so I thought traveling with a camp could be a safer option. I'm so happy I came and feel a bit stupid for being so suspicious as I feel just as "safe" as I would anywhere else. The Moroccan people I have met are very warm, generous people and always want to help you. They really like tourism and just want foreigners to get a good impression of their country and feel welcome – also always try to speak to you in your language ( I have heard them speaking German, Dutch, English..French and even some Danish, it's crazy !!) Of course I'm coming back again. ( Janine, 26 – France )
Feel free to check out these other insightful blogs on female travels to Morocco:
www.marocmama.com/10-tips-women-visiting-morocco
www.globetrotterguru.com/morocco-travel-advice/
www.endlesslychanginghorizon.com/tips-for-travelling-morocco-as-a-solo-female/
Traveling alone as a woman can be a daunting prospect. Here at Solid Surf, we try to take the stress and any doubts out of it for you. Providing a safe, yet culturally immersive and fun environment for you, where the only things you really need to worry about are when the Avocado Shake shop opens, when to hit the Hammam/Massage post-surf and obviously when the next swell's coming 😉