The Ultimate Guide to Surf Boards :
Everything You Need to Know
Understanding the Anatomy of a Surf Board
If you're new to surfing, choosing the right surfboard can seem daunting. With so many sizes, shapes, and materials to consider, it's easy to get overwhelmed. However, understanding the basics of surfboard anatomy can help you make an informed decision.
The most important components of a surfboard are the deck, bottom, rails, nose, and tail. The deck is the top of the board where you stand, while the bottom is the underside that contacts the water. The rails are the edges of the board, and their shape affects the board's maneuverability. The nose is the front of the board, and the tail is the back.
There are several types of surfboards, each designed for different conditions and skill levels. Longboards, for example, are typically 8 to 12 feet long and are great for beginners because they're stable and easy to paddle. Shortboards, on the other hand, are between 5'6″ and 7 feet long and are designed for more advanced surfers who want more maneuverability.
Fish boards are shorter and wider than shortboards, making them ideal for smaller waves. They're also great for intermediate surfers who want to improve their speed and maneuverability. Gun boards are long and narrow, designed for big waves and experienced surfers.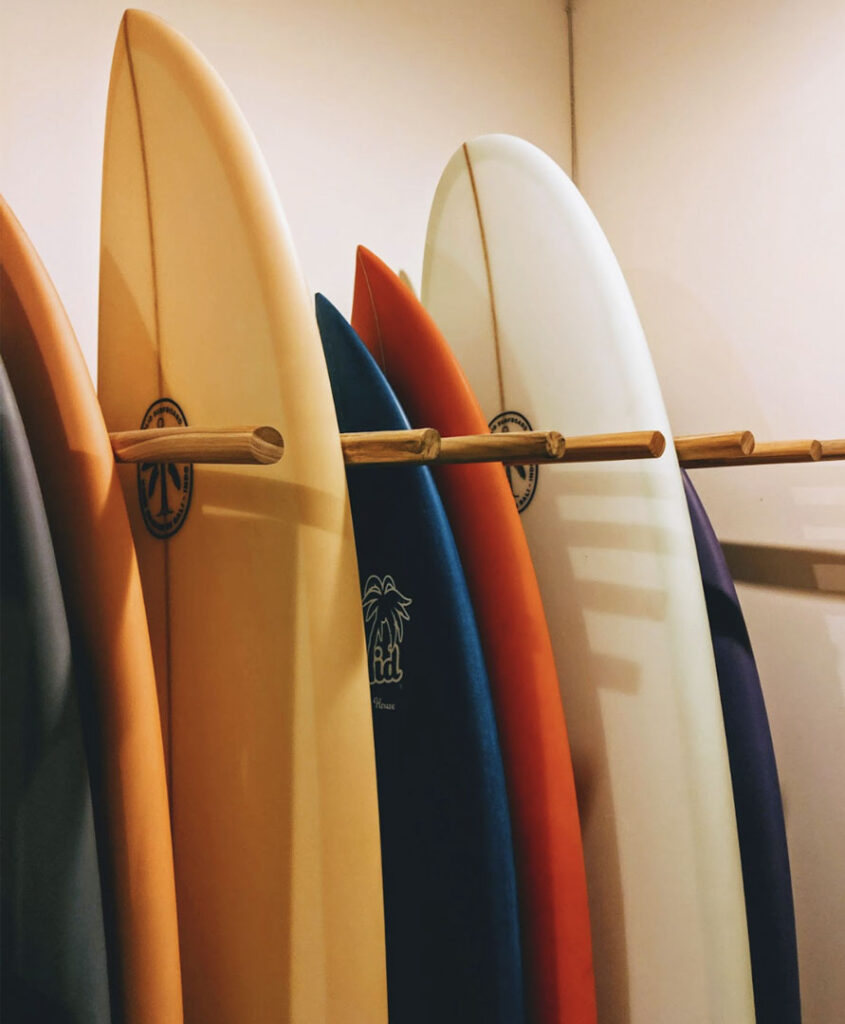 Materials Used in Surf Board Construction
The three most common materials used in surfboard construction are polyurethane foam, polystyrene foam, and balsa wood. Polyurethane foam is the most popular material and is used to make most traditional surfboards. Polystyrene foam is lighter and stronger than polyurethane foam, making it a popular choice for high-performance boards.
Balsa wood, on the other hand, is a natural material that's been used in surfboard construction for decades. While it's not as common as foam, it's still used to make some high-end boards because of its durability and unique flex.
Choosing the right size surfboard is crucial to your success as a surfer. If your board is too small, you'll struggle to catch waves and maintain balance. If it's too big, you'll have a hard time maneuvering.
Your weight and skill level are the two most important factors to consider when choosing a surfboard size. As a general rule, the longer and wider the board, the more stable it will be. If you're a beginner, start with a longboard that's at least 8 feet long.
Maintaining Your Surf Board
Proper maintenance is key to keeping your surfboard in good condition. Rinse your board with fresh water after each use to remove sand and salt. Store it in a cool, dry place out of direct sunlight, and avoid exposing it to extreme temperatures.
If your board gets dinged or damaged, it's important to repair it right away. Small dings can be filled with surfboard resin, while larger dings may require professional repair.
Customizing Your Surf Board
Many surf board manufacturers offer customization options to help you create a board that is uniquely tailored to your preferences and skill level. Here are a few ways you can customize your surfboard:
Caring for Your Surf Board
Proper surfboard maintenance is essential for prolonging the life of your board and ensuring that it performs at its best. Here are a few tips for caring for your surfboard:
Rinse your board with fresh water after each use to remove salt and sand.

Store your board in a cool, dry place out of direct sunlight.

Avoid exposing your board to extreme temperatures, as this can cause the foam to delaminate or warp.

Repair any dings or cracks in your board as soon as possible to prevent water from seeping in and causing further damage.

Avoid putting pressure on the board when it's out of the water, such as leaning it against a hard surface or stacking other boards on top of it.
By taking good care of your surfboard, you can ensure that it lasts for many years and provides you with many unforgettable surfing experiences.
Choosing the right surfboard is crucial for any surfer, whether they are a beginner or an experienced rider. It is important to consider various factors such as the size, shape, and material of the board before making a purchase. Additionally, knowing how to properly care for and maintain a surfboard can prolong its lifespan and ensure optimal performance. With the information provided in this article, we hope you can make an informed decision when it comes to selecting and customizing your surfboard. Remember to always prioritize safety and enjoy the waves responsibly.
Frequently Asked Questions (FAQ)


About Surf Boards